Theory and practice
Internships and final projects
Have you decided in favour of a suitable course of study in the fields of Energy, Building, or Environmental Technology? Are you looking for an opportunity to gain practical experience during semester breaks? Or are you planning a concrete, technical application for the successful completion of your studies?
If so, then look no further. We offer support for final projects and internships.
Examples of courses of study terminating in the Bachelor of Engineering or Master of Science degree:
Energy Engineering, Building Services Engineering, Systems Mechanic
Electrical engineering, concentration in Automation
Energy and building systems
Energy and environmental technology
Broadening our outlook
Dual courses of study
You can complete a variety of technical dual courses of study at our company.
In these courses of study, project-based training at our company is coupled with scientific study. During the semester, students switch between phases of study and real projects. You will receive pay throughout the entire training period and will not have to worry about financing your studies.
Heating and power plant technology, renewable energy technology and developing environmental systems – these are just some of the topics that will be covered during your studies and your hands-on work.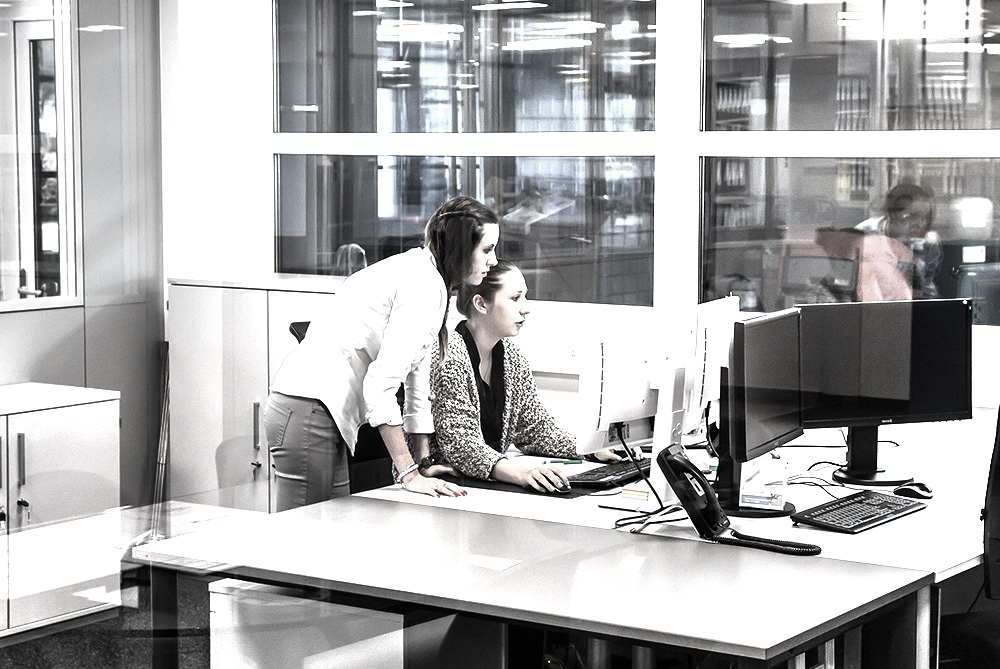 An eye for organisation
Clerical training at e-con
Industrial business management assistants and office business management assistants
Industrial business management assistants support business processes ranging from order initiation to customer service. The areas of application are varied and may be related to marketing, sales, logistics, HR management or accounting.
Your profile:
Strong communication skills and outgoing personality
Good ability to absorb technical information
Team player – enjoys working as part of a team
Corresponding schooling (Middle Maturity Certificate, A-levels or the like)
What we offer:
A job with a secure future as part of a motivated team
Long-term collaboration even after training
Attractive salary and benefits in terms of payment, holiday, weekly working time and flex time
In-house and external vocational training programs
Company events, teambuilding, trainee excursions
Possible opportunities for professional development:
Business Administration, Business Management, and many more
Taking part in and becoming part of the energy transformation
Go green
Sustainable energy sources determine the market of the future. The latest innovations and technologies are in use at e-con. From wind power to photovoltaics, from solar power to solar thermal energy, from biomass to combined heat and power plants (CHP) powered by biogas. We plan and install efficient, reliable and clean energy generation methods.
In addition to planning our energy self-sufficient production hall in Ungerhausen, we successfully participated in the energy concept to complete numerous small-scale, medium-scale and large-scale projects. These include the WWK Arena in Augsburg as well as our highly acclaimed Memmingen local heating network. There, a total energy savings equivalent to 5 million litres of heating oil and 12,500 tonnes of CO2 was attained over the course of ten years.
You will also be in good hands here in future. The industry offers a wide range of applications that are becoming increasingly more important: Health, environmental protection and energy (cost) efficiency. There are still plenty of steps to be taken in the transition to energy-saving technologies.